Becoming a Fighter
My body hasn't always looked how it does now - I used to look more femme and even had long hair. I dreamed of transforming my AFAB body to have a more masculine physique, so I broke out of the dieting and over-exercising cycle so many of us are brainwashed into thinking is #goals.
Through educating myself and through personal trial and error, I figured out how to optimize my nutrition and exercise program to turn my dreams into results. I'm finally a version of myself that I love, and I want to share what I learned with other AFAB-bodied people so they can feel the same.
My personal fitness routine is basically what The Fighter is based off of - I even share my daily workouts in the app.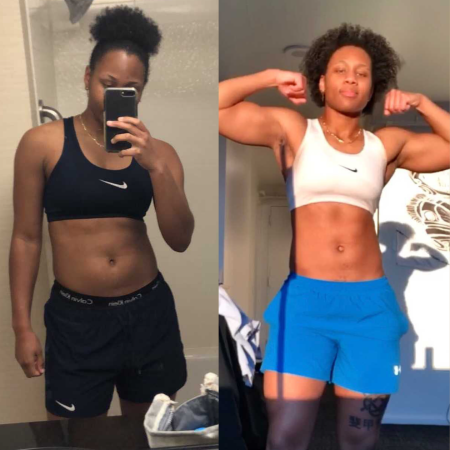 I bought the fighter program about 8 weeks ago and it's made a huge difference, not just with my appearance but how much I enjoy lifting and the journey. I put all my friends on and it's an amazing program, just wanted to reach out and say thank you!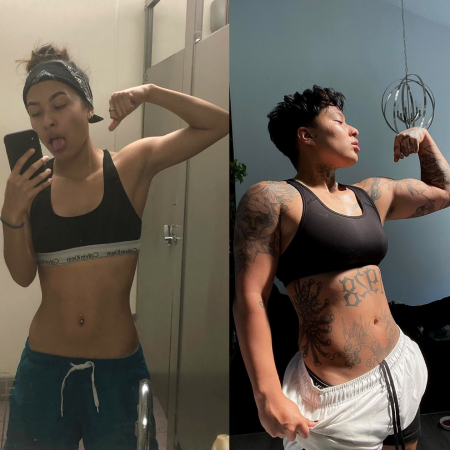 I didn't know where to start till I found Momo's program! I really don't recognize how far I've come till I look back so THANK YOU FOR THAT.
BRUH. I CANNOT thank you enough for making this possible for me. I was so lost in the gym until I started using your programs/videos/diet. If this is what 6 weeks can do I'm really pumped to see what's in the upcoming.
the FIGHTER Program
The Fighter is designed to help you feel strong and look strong. This program is ideal for those wanting to build hyper-defined muscles for confidence and strength. So ... what can you expect?
+

Rock-hard upper body

+

Poppin' veins & biceps

+

V-lines & defined 6-pack

+

Lean muscle & athleticism
Become a Fighter
FIGHTER SPOTLIGHT
Ash L. they/he | Age: 40
WHAT I SEE: At age 40, I saw this progress in 5 weeks with MoMo's Fighter Program. Fat loss, muscle gain, broadening of back, and increased vascularity. Better posture and confidence. One pant size down, one shirt size up - aww yeah!
HOW I FEEL: Powerful, sexy, strong. Energetic AF, despite severely cutting back on caffeine. Most importantly - PROUD of myself for my commitment and consistency and GRATEFUL for this gorgeous and kind group of Muscle[Babes & Bros] who inspired me, educated me, and helped me push through each day - THANK YOU!
Nutrition: The Fighter Program Training: The Fighter + 21 Days Abs on App
Before

After

Weight

136

Weight

132

Gym / week

1

Gym / week

4

Cal / day

1,400

Cal / day

1,800

Waist size

30

Waist size

29
App vs Body Type Programs
App
100+ tutorial videos

Complete training plans

New workouts daily

Access to Coach MoMo

Subscription-based
Body Type Programs
170+ pages of knowledge & tips

Detailed 6-week program

Nutrition breakdown

Meal plans & shopping lists

One-time fee for lifetime access
SUSTAINABLE RESULTS IN LESS TIME
See what you can accomplish with workouts & nutrition plans designed for you – plus, have thousands of babes & bros by your side along the way.