Regular price
$129.00 USD
Sale price
$97.00 USD
Unit price
per
Sale
Sold out
The Surfer is designed to sculpt and tone with a focus on building a Brazilian butt, arms, and abs. This program is ideal for those wanting a bikini body with an athletic twist.
| | |
| --- | --- |
| | Sculpted abs, arms, & booty |
| | Body confidence and posture |
| | Fat shredding and lean muscle |
| | Athletic bikini body |
View full details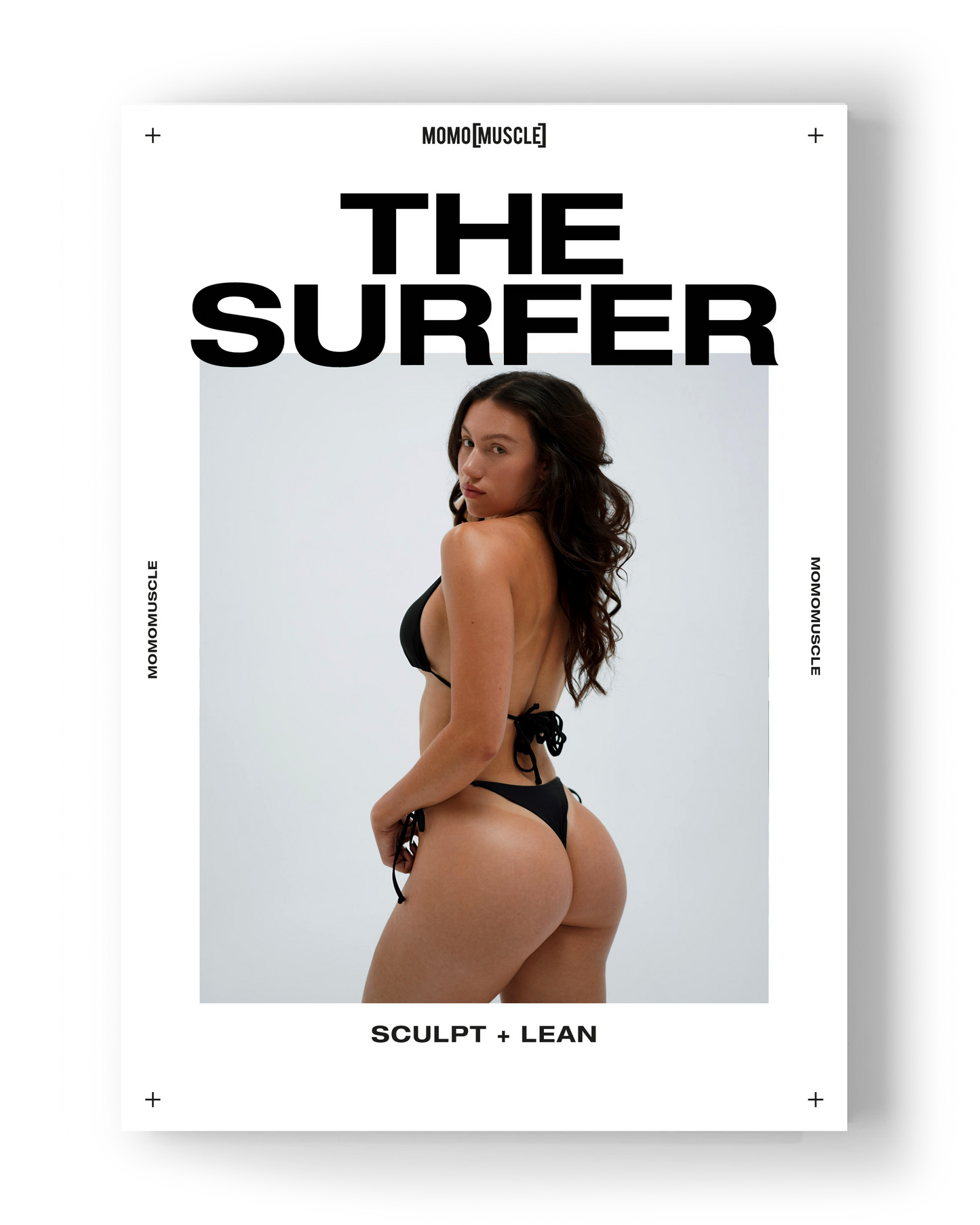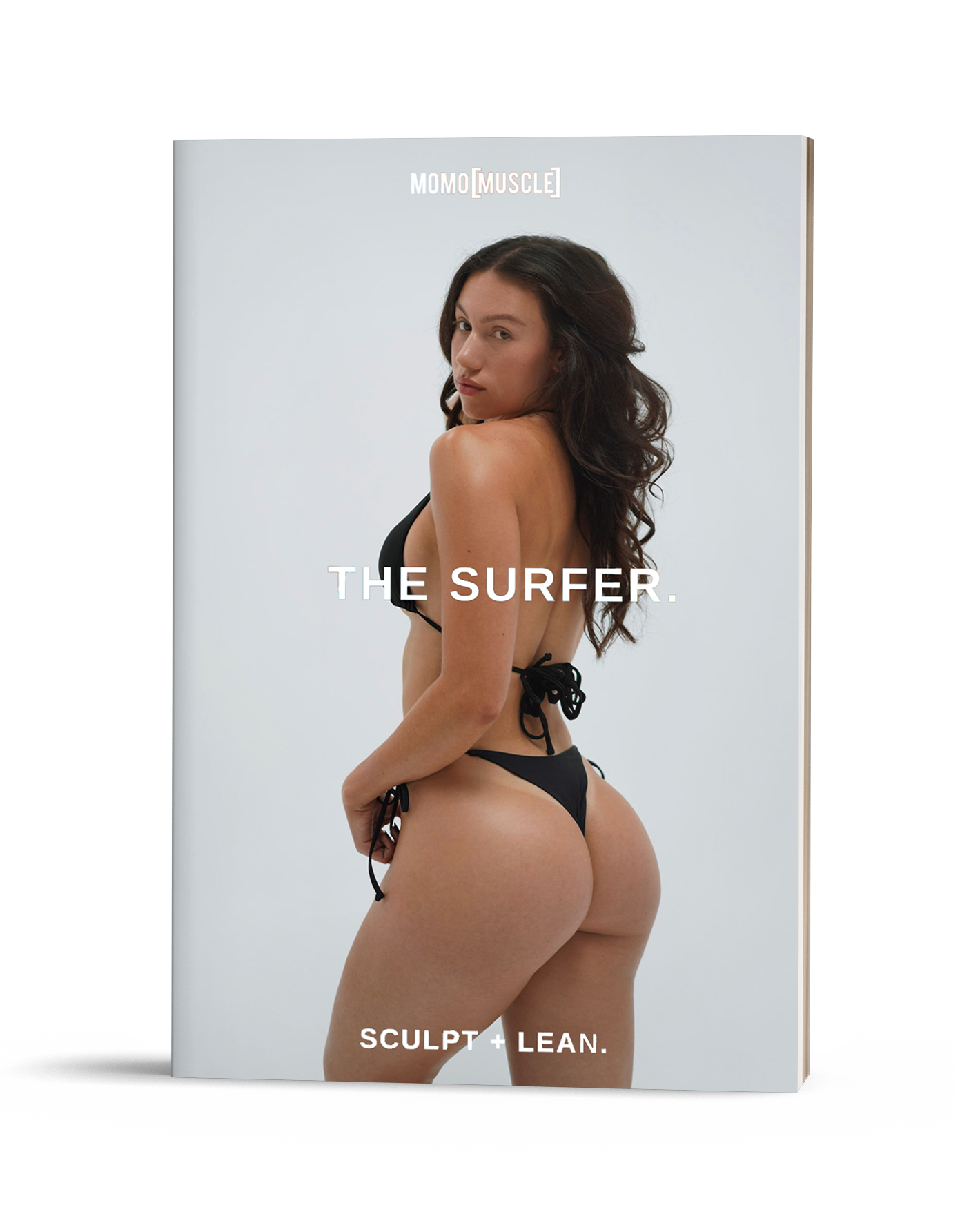 Somewhere between spin class number 287 and your daily açaí bowl, it hits you. You've been crushing cardio and cutting cals for what seems like FOREVER. But somehow, against all odds, you're neither leaner nor more toned. Wtf.
You've done the jumping squats. You slayed hours on the elliptical. You donkey kicked for Pete's sake. Donkey kicked! So where's that bikini booty you were promised? Is it possible that endless squats aren't the answer? Could that daily oatmeal be sabotaging your fat burning abilities? You. Demand. Answers!
Well babe, here's the good news, it's not for lack of effort, it's just science! Your body runs on hormones (not cold brew, as you might have thought) and those hormones are calling the shots on whether you build muscle or store fat. To truly sculpt your bod, you have to get those lil hormones working for you, not against you.
The result? More tone in less time. We're talking tight abs and a bubble butt, without getting thicker than a Snicker. Plus, you can still have oatmeal… but in delicious waffle form to spike your leptin levels.
Sculpting your body like a Brazilian babe comes down to one thing--working from the inside, out. You can run your weekly marathons and eat all the avocados, but if you ignore your metabolism, hormone levels, gut health, and genetics, most of the effort is wasted.
Instead, we take a total 360° fitness strategy to work SMARTER, not harder.
The Surfer is a science-based program built on a straightforward, easy to follow, plan of attack. In 6-weeks you'll see athletic tone and definition appearing in all the right places. It starts with:
Training like an artist to sculpt your abs, arms & butt
Taking control of gut health for maximum fat loss
Perfecting calorie intake for an athletic bikini body
Loading your hip for the ultimate Brazilian booty
Carb-cycling to heat up your metabolism
Delicious, effortless meal plans
Personal tips and tricks for every exercise
Video guidance to ensure perfect form
A complete training program for lean, sculpted muscle tone
Bikini Butt
The Surfer targets the under butt (aka your hamstring and glute tie in) for the ultimate Brazilian butt, all while keeping quads lean and not bulky. The secret? We load your hip and not your knees #BabeHacks.
Tight, Toned Abs
Flat abs require more than crunches. The Surfer is designed with a balance of lateral flexion, rotation, and anti-flexion to cut hard lines. In this case, please DO get it twisted.
Confidence and Posture
The Surfer split has you pull more than you push, getting you to stand taller, more confident and with a more attractive posture. Total. Babe. Status.
Calorie Shredding
The Surfer Program torches calories by swapping long hours of cardio with short, high-intensity conditioning that supercharges your metabolism to incinerate fat.
Efficient Progress
No exercise is wasted in The Surfer Program. Simply train four days a week with a focus on form, muscle activation, and intentional effort. Don't stress, do less!
The Split
Day 1
Day 2
Day 3
Day 4
Build your beach bod
Join me and thousands of babes
Total babe status.